Tetrahydrocannabinol (THC) is the most well known psychoactive molecule found in the inflorescence (bud) of Cannabis sativa. Numerous natural analogs of THC found in Cannabis perform similar effects when ingested by consumers. These species sharing a similar scaffold have a slight difference in chemical structure differentiating them from Δ9-THC. Δ8-THC differs from Δ9 by placement of a double bond in the ring structure of the compound, as seen in Figure 1.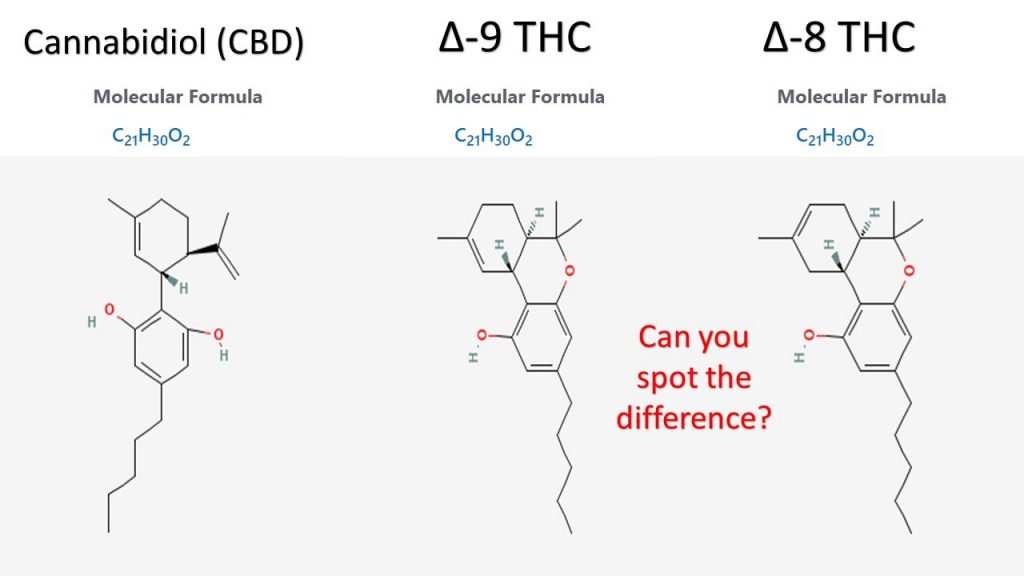 Figure 1. Chemical structures and molecular formulas of cannabidiol, Δ9, and Δ8-tetrahydrocannabinol.
The difference in placement of this double bond is important both chemically and legally when distinguishing between the two isomers. An isomer is a compound that shares the same chemical formula, but has a difference in arrangement of atoms or chemical bonds between atoms in the molecule. Delta (Δ)-8 THC and delta-9 THC's relative potency to each other is 2:3, as described by Hollister and Gillespie. Because of this difference in potency, why would consumers of cannabis seek out delta-8 products over delta-9?
The accessibility of delta-8 products are widely available to consumers via unregulated internet sales, headshops and tobacco stores. Unregulated delta-8 products are not federally required to undergo quality control testing, allowing manufactures of these products to bypass expensive assessments to characterize their contents. The 2018 Farm Bill defines "hemp" as "the plant Cannabis sativa L. and any part of that plant, including the seeds thereof and all derivatives, extracts, cannabinoids, isomers, acids, salts, and salts of isomers, whether growing or not, with a delta-9 tetrahydrocannabinol concentration of not more than 0.3 percent on a dry weight basis." 7 U.S.C. § 1639o. This definition supports the claims of delta-8 THC producers to classify their products as "hemp". Hemp products are exempt of federal oversight by the FDA as long as the dry weight percentage of delta-9 THC does not exceed 0.3%.
The lack of federal regulation over THC isomers has created a loophole for hemp producers to create a product that provides a "legal" high for its consumers. Delta-8 THC naturally occurs in hemp in small quantities such that consumers of hemp do not get a distinct "high" when smoking. To increase the scale of delta-8 THC production, producers convert hemp derived CBD into delta-8 THC. CBD is one of the most abundantly produced cannabinoids found in hemp, and an isomerization reaction changes the chemical structure of a compound without changing its chemical formula. CBD and THC are structurally related (as seen in figure 1) based on their chemical formulas.
Basic chemistry techniques can be used to turn CBD into delta-8 or delta-9 THC using hydrochloric, sulfuric, or acetic acids (Adams et. Al. 1941). These methods are easy to facilitate by an inexperienced and unscrupulous chemist while also producing an uncontrolled mixture of cannabinoids and non-uniform final consumer goods.
Before even considering the other dirty aspects of some synthetic reactions, consider with a limit of 0.3% delta-9 THC it is possible to understand delta-9 THC as a contaminant. This is especially troublesome in these jurisdictions without any law protection for cannabis users. More than half of the states currently do not ban or recognize this unique situation which jeopardizes employment for these consumers due to the delta-9 THC risk.
This unfortunate scenario of consumers seeking a legal and far less tested cannabis alternative is just a side effect of our laws. Certainly, you can recall "spice" blends of organic matter sprayed with the JWH-XXX synthetic cannabinoid family (and others) in recent years while still ongoing elsewhere globally. These consumers were seeking to skirt drug laws when conventional drug-type cannabis is obviously their first choice while ingesting substances from a less stringent "industry".
Fast forward to today, because of this very familiar situation consumers in states without recreational cannabis laws, or suffering draconian Federal laws tended towards low quality and potentially hazardous delta-8 THC products.
To be clear, pure delta-8 or non-contaminated delta-8 THC products should have a similar safety profile to delta-9 THC. The difference is that delta-9 THC products are made in an open maturing industry with expectations of passing regulatory checks on contaminants. This makes it impossible to do business producing contaminated products when they can't hit the shelves and consumers are being educated on quality concerns.
When the market is not set up this way it is creating opportunities for consumers to have increased access to products that could contain other impurities. These impurities such as pesticides, heavy metals and residual solvents may not be removed due to difficulty and cost. So, these "get rich" bad actors may not mention or concern themselves with impurity removal when producing delta-8 THC products sold at gas stations for example.  
Yes, it is possible to produce delta-8 THC products to a GMP level. There is much more, but to start you would have to characterize the whole reaction pathway for degradants, side products, upstream raw materials, and removal of any input aids at the end. This is classic work for any pharmaceutical chemist to produce a pure product regardless of the potentially very hazardous steps leading to that final product.
Delta-8 THC seems to also have the tendency that drug-type cannabis alternatives legal, safe, or otherwise, go through while people bide their time for State/Federal legalization and opportunists continue to profit. The longer it takes for legal change the more opportunities for these incidentally hazardous alternatives to pop-up and cause further mistrust in this industry surrounding a rather safe product. Does the legit and maturing cannabis industry really want to collectively facepalm when blamed for grey market bad actors trying to make a buck?
Overall, this situation is a mess that is also predictable to anybody in the cannabis industry long-term concerned with quality. Delta-8 products will continue to be produced in jurisdictions without recreational cannabis laws where it is obvious those consumers want regular cannabis. As GMP experts working with manufacturers across the globe we look out for the consumers downstream. This is a case where we need to continue collecting data and lobbying for legal cannabis access to prevent people seeking alternatives with FAR less human history of use, often designed for biomedical research rather than human medical or recreational consumption.
Written by:
Gino Pacifico – Intern Analyst
References:
Hollister, L.E., Gillespie, H.K. 1973. Delta-8 and delta-9-tetrahydrocannabinol; Comparison in man by oral and intravenous administration. Clinical Pharmacology & Therapeutics. 14(3) 353-357. DOI: https://doi.org/10.1002/cpt1973143353
Adams, R., Cain, C., McPhee, W., Wearn, R. 1941. Structure of cannabidiol. XIL Isomerization to Tetrahydrocannabinols1. Journal of American Chemical Society. 63 (8) 2209-2213. DOI: https://doi.org/10.1021/ja01853a052
USCC's report on 'The Unregulated Distribution And Sale of Consumer Products Marketed As Delta-8 THC. https://irp.cdn-website.com/6531d7ca/files/uploaded/USCC%20Delta-8%20Kit.pdf