Pressure differentials are a reasonable means to segregate spaces for sanitation and contamination control. The underlying concept being that a pressure differential acts as a physical barrier that inhibits the flow of contamination sources by controlling the direction of air from each area. Creating an area of higher pressure by introducing a larger volume of air than is allowed to escape reducing the likelihood that unwanted particles can flow against the pressure differential. Normally areas of higher pressure create a push effect and negative areas create a pull or suction effect.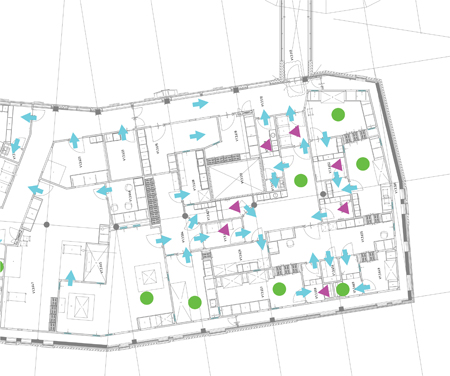 Areas that are at risk for contamination should be controlled at higher pressure to create a flow of air outward when doors and breakages occur. Less clean or low risk areas should be kept at negative pressure to allow a suction effect that contains the unwanted particles in those areas as they are typically exposed to uncontrolled conditions such as the outdoors.
With this concept in mind, in critical areas such as QA Labs, Extraction Labs, Packing & Labeling areas, cultivation areas, gowning, and the secure storage areas should be kept at a pressure higher than the surrounding spaces. This will control the direction of airflow into these spaces. Cultivation prep and conditioning areas will be kept between positive and neutral air pressures to reduce the airflow across the threshold into active cultivation areas but allow directional flow out into the Trim and Hallway spaces. Trim, hallways, office, warehouse, S&R areas and the restrooms should be kept at lower pressures than the surrounding areas to pull airflow from these areas as they are expected to be at a higher level of cleanliness and have a tighter system of environmental control. All air entering the facility should be filtered and free of outdoor contamination.
Additional engineering controls should be placed around the cure room due to relative process proximity to the final product. Controlled access to this area would ensure that doors can not be opened from the cultivation side unless a fire alarm is activated for safety purposes as an exit route or a harvest is being transported from flowering to the cure room. The only entry point should be from the trim room which would have to have the hallway entrance closed before the cure room is opened to have no possibility of misdirected airflow. This control system will ensure that no contamination can reach the final flower product and tight environmental conditions can be maintained. Ensuring this particular room is well sealed and doors do not leak will be of importance. Being able to verify and validate these types of controls are in place is vital to meeting stringent compliance reagulations.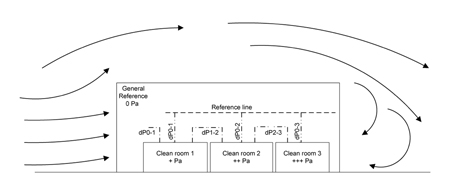 It will be vital to contract a HVAC company that is skilled in controlled environments and has worked with clean room situations before. Over pressurized rooms are hard to access and can create sealing issues. This should be kept in mind and limited differentials can achieve the same overall goal of directional airflow control.
Following these simple guidelines will get your cannabis operation flowing in the right direction. Contact us at info@oriongmp.com for more information or get started on your GMP journey.